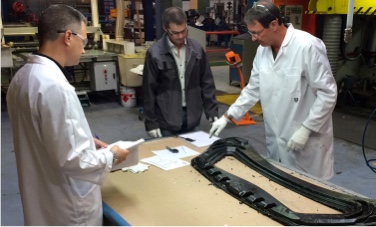 As a member of the Teijin group of companies, Teijin Automotive Technologies has access to a variety of advanced fiber and materials technologies, including carbon fiber. As we work toward formulating the next generation of lightweight materials, we offer a number of cost-effective ways to incorporate carbon fiber into Class A or structural applications. Our carbon fiber expertise enables us to formulate, design and manufacture a solution that offers optimal weight reduction while maintaining all of the necessary mechanical and surface requirements.
Carbon Fiber Capabilities
Carbon Fiber advanced composite
This is a reinforced, high strength structural-grade SMC, ideal for closure inners and other structural panels. With a specific gravity of 1.4, this lightweight material also offers higher strength and modulus due to the chopped carbon fiber reinforcement.
Resin Transfer Molding (RTM)
Made from either a woven or recycled mat, Teijin Automotive Technologies uses a fast-cure, multi-injection resin system to create structural components. Combined with Teijin Automotive Technologies' RTM system that incorporates a high performance vacuum and high-pressure injection, Teijin Automotive Technologies has greatly reduced the cycle times generally associated with RTM. RTM components can be made with normal NCF or a preform for near net shape (Part via Preform). This method offers a very low scrap rate, while NCF RTM offers a Class A exposed weave surface.
Sereebo is a Teijin proprietary material technology. This thermoplastic compression molded material has superior energy absorption and impact properties, good moldability and a one-minute cycle time.
Sereebo is currently in production on the GMC Sierra Denali CarbonPro edition, in the industry's first carbon fiber pickup box. This revolutionary material received numerous industry awards, including the 2019 Automotive News PACE Award.
This compression molded thermoset is either unidirectional or fabric in nature and requires a lower pressure molding. Cycle times are generally around 5 minutes.
A great example of how we use carbon fiber is our award-winning, multi-material decklid concept:
Carbon Fiber RTM inner; TCA Ultra Lite Outer
Weighs just 12.11 lbs. (5.5 kg.), a 13 percent weight savings over a similar decklid made from aluminum
The carbon fiber RTM structural inner component represents a number of breakthroughs in the use of recycled materials for cost-effective, mass production applications. Using pre-formed mats infused with a Hexion fast-cure, epoxy-based resin played a key role in Teijin Automotive Technologies being able to successfully reduce the cycle time associated with high carbon fiber content RTM. From injection time to cure to completion, the total cycle time for this component is 2.5 to 3 minutes.
The 2019 GMC Sierra Denali CarbonPro edition features the industry's first commercial application of the material Sereebo®, a proprietary, carbon fiber nylon thermoplastic material that is fully recyclable. The advanced manufacturing techniques used to mold Sereebo into the CarbonPro box are the first mass production technologies developed for carbon fiber reinforced thermoplastics suitable for high-volume programs. The CarbonPro box delivers best-in-class dent, scratch and corrosion resistance, while saving 62 pounds over a steel box. Its durability eliminates the need for a bed liner, saving an additional 40 pounds of mass.