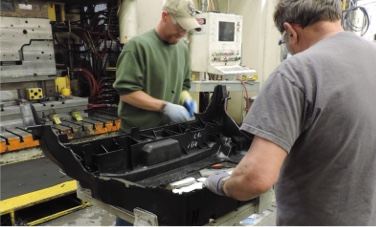 Thermoplastics become a homogenized liquid when heated and harden when cooled. They can be heated and reformed many times. Teijin Automotive Technologies creates composite body panels and structural components through a variety of thermoplastic technologies. Advantages include low-flow stress during molding, material homogeneity in complex part design, greater styling flexibility and lower tooling costs. Our thermoplastic technologies include:
Glass Mat Thermoplastic (GMT)
Strong partnerships with key GMT suppliers globally.
Homogenous material due to consistency of glass content and length.
Typically used for structural parts such as bumpers and underbody shields.
Direct Long Fiber Thermoplastic (D-LFT)
Material compounded and extruded adjacent to presses for optimal efficiency, cycle time.
Can be modified to meet customer-specific applications.
In-house processing reduces cost levels versus GMT.
Can be injection molded with plunger-type system for better flow, and is ideal for structural and certain Class A finish parts.
Low Weight Reinforced Thermoplastic (LWRT)
Very lightweight material with acoustical properties that make it idea for shields and headliners.
Offers low-cost tooling due to low-pressure molding/processing.
Polyethylene Terephthalate (PET)
Acoustical properties make it well suited for certain underbody aero shields at a fraction of the cost of other materials.
Low-pressure molding enables the use of lower cost tooling.
High Density Polyethylene (HDPE)
Ability to set up JIT production line adjacent to customer location.
High volume alternative that optimizes value versus other shield materials.
Thermoforming allows for design flexibility, ideal for wheel liners and a variety of underbody shields.